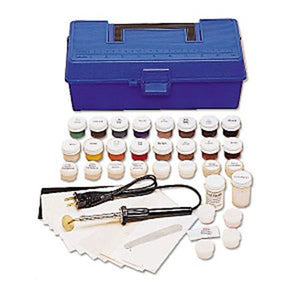 Start your own business Starter Kit-Leather and Vinyl Repair
START YOUR OWN BUSINESS- STARTER KIT
This Leather & Vinyl Repair Toolbox Kit includes everything needed to make professional repairs.

You can repair hardtops, convertible tops, car seats, door panels, dash padding, restaurant seating and bus seats.
Enough material for approximately 100s of repairs.
16 1/4 oz color Heat Cure repair compound
Powder Hardener- (mix in repair compound used for harder surfaces)
Vinyl Adhesive (filler)
Epoxy Ribbon (filler)
Mixing cups
Backing Material
10 3 x 6" Grain Texture Papers
2 oz Cleaner
2 oz Finisher
Metal Spatula
Heat Iron
Colors Included in Case: Black, Dark Gray, Gray, White, Beige, Saddle, Turquoise, Dark Blue, Blue, Dark Green, Green, Yellow, Red, Brown, Silver and Gold. Unlimited Color Matches.