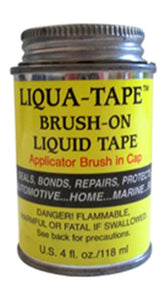 Liqua Tape
Tired of using Black Tape? Need a permanent bond?
Just brush on Liqua-Tape to instantly insulate, coat, seal and protect wiring in home, car, RV or boat.
Goes on easily as a liquid gel…dries immediately to form a weatherproof, leakproof tape-like skin.
Color Black: 4 oz. can with brush top lid
Call for wholesale pricing or for special colors.