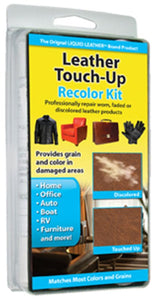 Leather Touch Up (Item 30-444)
Discoloring and natural wear is a common complaint with leather, however, it can be fixed with this simple Leather Touch Up Kit.
REPAIRS to your damaged leather. Rips, Tears, Holes and Damages to ALL Leather.

RECOLORS kit contains 7 Leather Colors to touch up, recolor, redye leather articles. Intermix to Match all colors.
PROTECTS & RESTORES all leather look brand new with the leather touch up kit.
RENEW any leather item. Great for shoes, auto seats, furniture, leather bags, accessories, jackets, motorcycle seats, boat, car and truck seats, saddles...anything made of genuine leather .