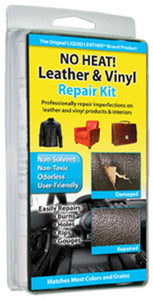 Leather and Vinyl No Heat (Item 30-123)
Quick and Easy repair kit for scratch, rip, tear, burn, hole, cracked and peeling leather.
Perfect Solution for all Leather and Color

Professional Results Guaranteed with a call to our Expert

Everything included to make great repairs.

Great for shoes, auto seats, furniture, leather bags, accessories, jackets, motorcycle seats, boat, car and truck seats, saddles...anything made of leather or vinyl leatherette .