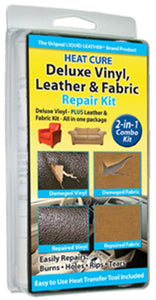 Deluxe Leather and Vinyl Repair Kit with Fabric and Upholstery Repair Kit (Item 30-002)
ALL-IN-ONE UPHOLSTERY REPAIR KIT
This repair kit contains our two most popular kits.

Car Seats, Home Furniture, Office chairs, Jackets, Belts, Purses, Motorcycle Leather, Boat seats, RV seats, Recliners, Couches
Clothing, Drapes, Bedspreads, Jackets, Upholstery
This ALL-IN-ONE UPHOLSTERY REPAIR KIT can be used to repair damages to almost any piece of furniture. Works great for leather and vinyl, as well as fabric, carpet, upholstery, curtains, drapery, etc.

Great for repairing small damages virtually anywhere in your house.